Collection
The Collection is where you can view all the cards in the game.
You can view any card's details, even if you haven't unlocked it yet.
Tapping or clicking on a card will show you everything about it: Its faction, rarity, mana, strength, movement, name, unit type, card type, art, ability, level, stats at other levels, and how many copies of it you have.
In the top-left corner is the menu to select which faction's cards you want to look at, and the top-right corner contains different ways to sort the cards. You can sort by name, mana, strength, and movement.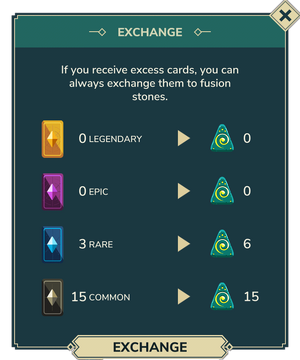 Once a card is upgraded to level 5, additional copies of that card can be converted into coins. The amount of coins you receive for depends on the rarity of the cards. You can exchange as many copies of cards as you want at a time.
| Rarity | Exchange |
| --- | --- |
| Common | 15 coins |
| Rare | 30 coins |
| Epic | 70 coins |
| Legendary | 150 coins |